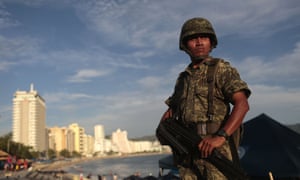 At least 50 schools were forced to close ahead of a holiday weekend in the resort city of Acapulco, where teachers said criminals threatened to attack classes if they were not given a part of their pay packets.
Earlier this month, armed individuals attacked spectators at a clandestine cockfighting event, killing 12, including two children. In a separate incident, more than 100 members of a community police force, who have organized in indigenous towns rife with violence, were involved in a shootout with criminals, leaving three dead, according to media reports. Villagers later detained 200 soldiers sent to seize the community police members' guns.
The security situation in Guerrero has so alarmed the state's Catholic bishops that they issued a letter urging "dialogue" with everyone – including criminals.
"It starts with dialogue and that means those involved in this," said Father Mario Campos, a priest in the poor "La Montaña" region, who founded the first community police forces 20 years ago. "Many people are dead. It's in the thousands. Something has to be done."
According to the newspaper Reforma, at least 50 murders have been committed in Guerrero since the new state governor, Héctor Astudillo, took office on 27 October. He won the election in June, promising "peace and order", and brought back the long-ruling Institutional Revolutionary Party (PRI) to power after a 10-year absence.
"What I've found is not only a matter that has to do with violence, but ungovernability," Astudillo said last week, pleading for patience. "With my arrival, not everything is going to stop. That's what I've found."
Violence is nothing new in Guerrero, a region often called the "Untamed Mexico", where local strongmen have long laid down the law. It unfolds to the south ofMexico City and includes glitzy Acapulco and the misery of La Montaña – where human development index scores are similar to those of sub-Saharan Africa.
Observers attribute the violence of recent years to issues such as drug cartels splintering and squabbling over territory, an increased demand for heroin in the United States – made with poppies grown in Guerrero – and organized crime infiltrating local governments.
"There's been neglect on the part of the government in all of its responsibilities, especially in security," Campos said.
That neglect was perhaps most starkly demonstrated in September 2014, when a group of students from the Ayotzinapa Rural Teachers' College disappeared after police officers attacked buses the students were traveling on.
Since then, however, the discovery of dozens of clandestine graves has suggested that the violence is only getting worse.
"What you have had since Ayotzinapa is the government pretty much disappeared from the scene," said Alejandro Hope, a security expert in Mexico City. "You still have something of a power vacuum. The new governor has not yet been able to re-establish some sense of political authority."
Astudillo's arrival brought hopes the security situation would calm, but the governor "is now lowering the expectations he created himself", said Raymundo Díaz, director of the Acapulco-based Collective Against Torture and Impunity.
Díaz expressed doubts that the security situation would improve as the new governor appoints people implicated in past abuses to public positions and reverts to old ways of addressing insecurity, which he says often have not worked well and ignore structural issues such as poverty and unresolved human rights violations.
"What he's done is respond with the same words PRI politicians always use: 'We're going to apply the law, impose order and the rule of law,'" he said. "But they're applying them to people who in some way or another are mobilizing for causes that can be often related to human rights."
Fuente: http://www.theguardian.com/world/2015/nov/17/mexico-guerrero-violence-ayotzinapa-students